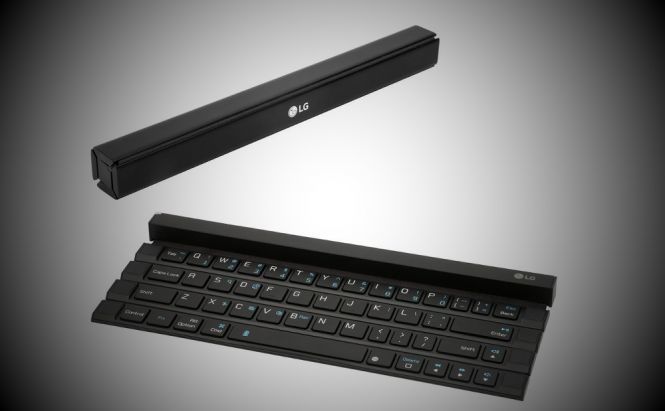 Meet the LG Rolly Keyboard
The South Korean electronics company is looking forward to strengthening its positions on the mobile accessory market and is going to release a new lineup of input devices for smartphones and tablets. And today we have an opportunity to have a look at one of the mobile accessories that are currently in the making. The LG Rolly Keyboard is the first rollable keyboard that will be available in the US this fall.
The Rolly Keyboard is made of polycarbonate and ABS plastic, providing users with laptop-like typing experience combined with portability. The unfolded keyboard is using automatic Bluetooth 3.0 connectivity to pair up with two different devices simultaneously. The user can then easily switch between the devices using a hotkey. LG states that the keyboard can work for three months on a single AAA battery. As most of the portable keyboards, the LG Rolly Keyboard has a build-in stand that supports tablets and phablets up to 10 inches in diameter.
At the moment we can't say for sure if the keyboard can be used with any device, but according to the official statement we might expect the device to be available exclusively with LG smartphones and tablets. Seo Young-jae, LG's vice president of Innovative Personal Devices said "The goal was to create a product that could add more value to LG smartphones and tablets." The pricing, as well as other devices of the lineup are most likely to be revealed in September.