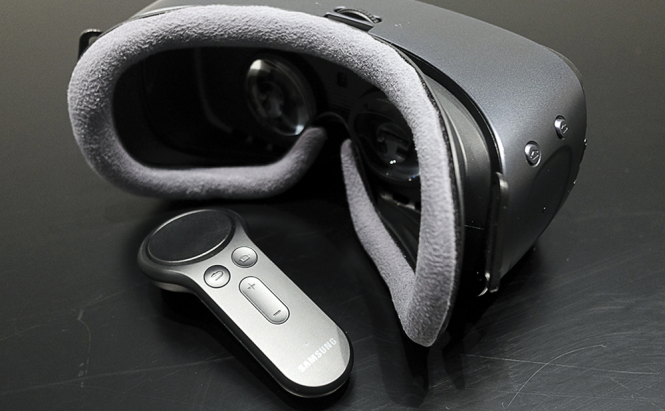 Samsung and Oculus present the first controller for Gear VR
Mobile VR has just got a little more interactive. Among many other technical marvels this year's WMC brought us the new Samsung Gear VR headset. While the goggle kit itself looks and feels a lot like its 2016's incarnation – it is the unusual wireless peripheral that got everyone excited. Samsung and Oculus have introduced the first official controller for Gear VR.
The device itself is far from revolutionary, but it does the trick. The design is very similar to the recent Google Daydream View controller and – for all the Nintendo fans out there – feels a lot like a Wii-mote. Previously navigating in Gear VR was inconvenient at best as you had to reach for the 'temple zone' of the headset where control buttons are located. Now you don't have to, as these buttons are mirrored onto the controller itself. Other features include the Daydream-View-esque circular clickable touchpad and a trigger to select and grab items, as well as to 'lock' the target and shoot. Plus, it has the obligatory Gyroscope, Accelerometer and Magnetic Sensor to fiddle with in the upcoming games. The device comes in a sleek lightweight housing designed to be operated with one hand and runs on two AAA batteries. Upon release the headset will feature a strap to hold the controller when you're not using the VR.
The controller will improve your VR experience
Oculus boasts to have more than 70 titles in development specifically for the new Gear VR at the moment – both apps and games – most of which will utilize the new touchpad feature. This will add up to more than 550 android apps already released for the 2016's version. In addition an SDK should be released for third-party developers in the next few weeks. The popularity of those apps and the ease of use of the controller will largely determine whether the new Gear VR will be a success.
Samsung still haven't set a specific release date for the new headset or the estimated price range. Some predict that they could officially start the sales around March 29th, along with the rumored reveal of Galaxy S8. However, we do know that while the goggles will be sold with a controller prepackaged, the device itself will be backwards compatible, which is at least fair. While the new handset still won't compete with the 'stationary' VR devices like HTC Vive or Oculus Rift in the level of immersion, the controller will definitely improve your mobile VR experience.
If you are excited about the latest VR developments as much as we are – you might as well enjoy our previous VR-related entries, like "2017 in VR. What to look for?" or "Visual impairments shouldn't stop you from using VR headsets"