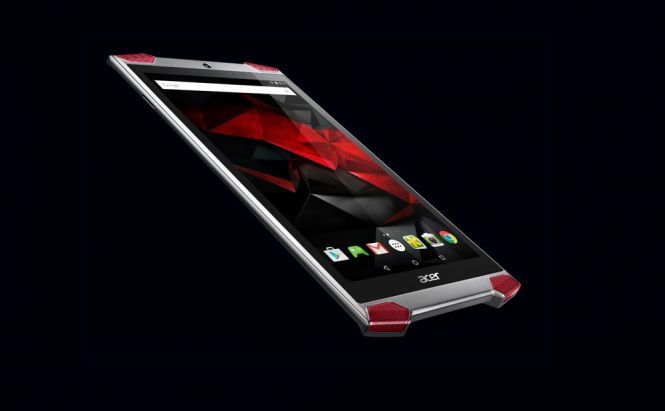 Acer Predator 6 is a smartphone for Android gaming
The Predator lineup of Acer devices is well known for being built for high-quality gaming experiences. Now the Taiwan manufacturer aims at the rapidly growing niche of mobile gaming devices and reveals its first smarphone with really astounding specs.
The Predator 6 looks very aggressive and features four frontal speakers, a 21 MP rear camera, 4GB of RAM, a huge 6-inch screen and a 10-core processor with two 2.5 GHz cores, four 2 GHz cores and four 1.4 GHz cores. It's not yet known how powerful the battery will be, but giving the volume of charge the system will consume, a portable charger is probably a must for this smartphone. There rumor has it that the phone will also feature ARM Mali-T800 series graphics to handle the most demanding Android games and dual haptic feedback to give gamers a sense of touch. The Predator 6 will also support 802.11ac Wi-Fi and 4G LTE connectivity.
Acer Predator 6 and Predator 8
For those who prefer larger screens, Acer also revealed its 8-inch gaming tablet called Predator 8. The specs of the tablet are more than enough to fall in line with Nvidia's Shield lineup. The tablet will have an Intel's Atom x7 processor, 2GB of RAM, four speakers, Intel's HD Graphics Processor (Gen 8-LP, 16EU, 600 MHz) and 64GB of storage (expandable up to 128 GB).
The release date and pricing are yet to be announced.
VIA: Engadget