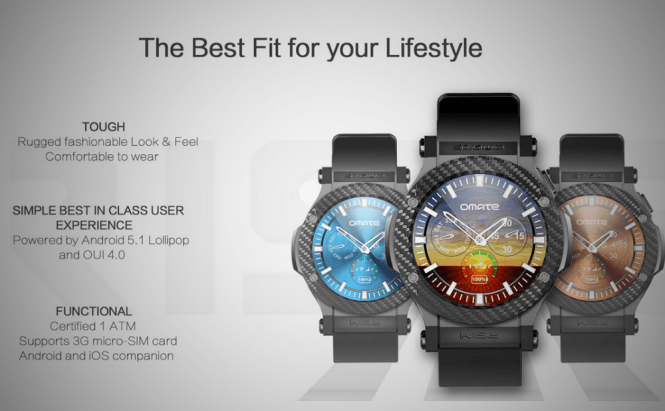 Meet the Rise – a smartwatch to replace your phone
Regrettably, the sales of the LG Watch Urbane 2, the first smartwatch to support cellular connectivity, were canceled. However, we already have another company that wants to be the first one to attach a smartphone to your wrist. Omate has announced the Rise smartwatch that has a SIM card slot. If that's not intriguing enough for you, the company is going to sell the first batch of devices through Indiegogo for $200.
As mentioned above, the smartwatch can be actually used instead of the phone, but if you don't like the idea it can be as well paired up with an Android or iOS device. Moreover, the Riseisrunning a customized version of Android 5.1 Lollipop, not Android Wear, as you might have expected, thus, you will be able to run regular smartphone apps on a tiny 1.3-inch, 360x360 screen. Inside,the wearable has a MediaTek 1.2GHz dual-core processor; 512MB of RAM and 4GB of storage. The Rise also supports Wi-Fi connectivity and has a GPS, a magnetometer and a gyroscope. Regrettably, the battery capacity is rather modest, 580mAh, so it is not very suitable for heavy usage.
The first 500 devices will be available for $200, after that you will be able to purchase the next 500 gadgets for $210 and, in case you miss out the window of opportunity, the smartwatch will set you back at $220. The campaign starts on December 7, so if you find the smartwatch attractive, make sure to set a reminder or subscribe to get a reminder on the official website.