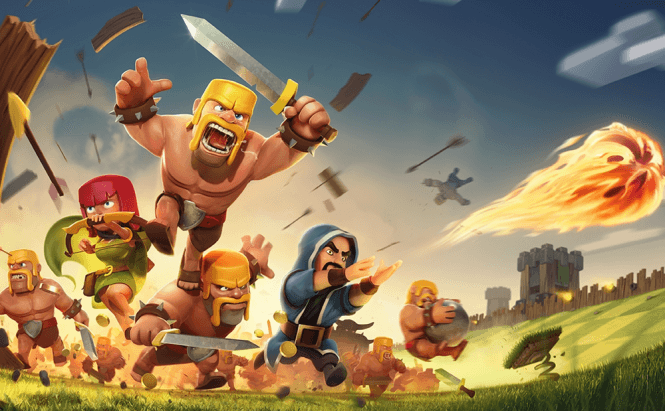 Top 7 Clash of Clans Alternatives for Android
Clash of Clans is one of the most successful strategy games in the mobile world with millions of players and, what's even more important, a huge amount of them using in-app purchase to hasten their progress. This game makes its users spend so much time on their devices that it was even featured in our previous article: Top 10 addicting iOS games. However, for one reason or another, many people get bored with it and want a new challenge that doesn't stray too far from what they already know. This is why I've decided to offer you a list containing 7 of the best alternatives to Clash of Clans.
1. VikingWars
VikingWars
As far as I'm concerned, if you're a fan of the genre, then VikingWars is a game that you don't want to miss out on. Moreover, many of those who commented about the game stated that it's even better than Clash of Clans, and that says a lot. All in all, the gameplay concept is pretty much similar: build a strong base, create an army, raid other players for gold, etc. It's not very complicated. What stands out about VikingWars are the awesomely designed graphics and the well-made tutorial which will quickly get you up-to-speed with the in-game strategies. An additional advantage is the ability to watch replays of your raids so that you can learn from your mistakes and come up with better strategies in the future. What I don't like about this game is that it was designed for the Kakao community (a Chinese social network), so if you want to send and receive free crystals, you need to sign up and make friends on it.
2. Siegefall
Siegefall
A really underrated app, Siegefall is the game from this list I enjoyed the most. What's really cool about this title is that during the raids you control entire groups instead of single units, which makes battles much easier to deal with. Another interesting fact is that Siegefall has an extensive story mode which makes it more immersive, giving a purpose to the casual gamer. As far as disadvantages go, the only one worth mentioning is the loading time, which is pretty high (approximately one minute per level). Siegefall was previously covered by Sam in his story: "Siegefall is a New Masterpiese from Gameloft", so if you want to find out more about the game, you should check out what he had to say.
3. Castle Clash
Castle Clash
If you like fast-paced strategy games, Castle Clash might be just what you're looking for. When I first saw this app I thought that it was just another Clash of Clans clone, but it's actually more than that, as it has its own distinct allure. In case you haven't figured that out yet, I am a bit of a geek at heart, so the fact that you can hire mythical creatures to aid you in your battles really appealed to me. From what I've seen, the biggest highlight of Castle Clash is its fast-paced, dynamic battle style which will quickly becomes addictive.
4. Star Wars: Commander
Star Wars: Commander
While Star Wars: Commander doesn't get too many points for originality (at least not in my book), I felt compelled to add it to this list. First, the story and gameplay are set to take place in the Star Wars universe which would be a big plus even for a game like Farmville, and second, the game is made by Disney, so you know that the graphics won't be a letdown. What's cool about Star Wars: Commander is that in the beginning you get to choose your faction (Rebel Alliance or Galactic Empire), and the heroes you employ are actual characters from the movies.
5. Clash of Lords 2
Clash of Lords 2
Clash of Lords 2 is a game that I didn't originally include in this top 7, but after seeing how popular the application is on Google's Play Store (over one million 5 stars reviews), I've decided that I had to mention it. What's different (and probably great) about Clash of Lords 2 is that it's easier to play than all the other titles on this list. The game isn't based so much on building and developing your headquarters and armies, but instead focuses on exciting battles that you can engage in right from the moment you start playing the game. CoL 2 offers its players 5 types of battles, each with its own charm, but all filled with action and chaos.
6. Battle Dragons
Battle Dragons
As you've probably guessed based on the title, in this Clash of Clans clone your entire army is made out of dragons. There are 10 different types of dragons that you can use as your troops, each with its own upgrades. Simply raid the neighboring villages, steal their hard-earned coins and use them to develop your own base or make your armies even tougher. What really impressed me about Battle Dragons was the original feature which allows you to attack your own headquarters and see exactly what you need to improve.
7. Jungle Heat: Weapon of Revenge
Jungle Heat: Weapon of Revenge
Last on our list, Jungle Heat: Weapons of Revenge looks more like an action movie than a mobile game. If you're a fan of men and women with huge muscles and huge weapons with lots of firepower, then you should really try this one out. What's paradoxical about this game is that the thing that I like the most about it is also the one that made me place it last on this list: the battles, raids or however you want to call them are very fun and entertaining (more so than most of the other Clash of Clans clones). Unfortunately, they're also very simple, which takes out a lot of the "strategic" value that this type of game should offer.
Well, here you have it friends: these are the best Android alternatives if you're tired of playing Clash of Clans. Just remember not to blame me in case you install one of these titles and then forget to go out, eat, wash or sleep. If you're a fan of Android games you may also want to check out these 5 epic horror games or the top 10 most addicting games for smartphones and tablets.