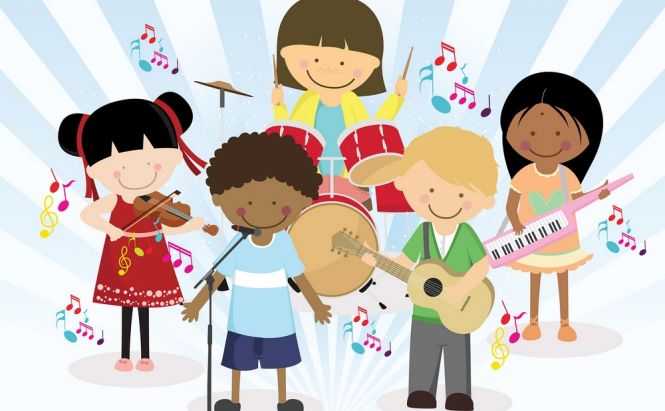 Top music apps for kids
Parents instinctively use music as a tool to calm and soothe their children, to express love and joy, and to engage and entertain their kids. Songs and melodies impact a child's development, improve social skills, and inspire creativity. Mobile applications that present in almost all parts of our lives cover the kids music area as well. In today's article I've rounded up the most useful and curious Android apps that will let parents and their children explore the world of songs, music composing, and music history.
Easy Music for kids
Aimed at three-year-olds and up, Easy Music for kids is a fun way to introduce kids to the world of music theory with animated characters teaching them to recognize such music patterns as rhythm, melody, pitch, and notes. How does it work? First, children play with funny animals in a game environment and learn the music basics in a practice mode. Then, in a compose mode, young musicians take an opportunity to start composing their own music, performing a melody on a colorful rainbow piano. The intuitive, yet effective Easy Music app has also been approved by teachers and psychologists.
Purchase Easy Music for kids for $3.99
Crayola DJ
Could your child be the next superstar DJ? It definitely could. To find the right answer, you just need to install the Crayola DJ app on your Android device and let your son or daughter make some music in its colorful and user-friendly interface. A kid can mix hip-hop, dance, pop, fusion, and Xmas tracks to make a unique piece of music. Crayola DJ will evaluate how gorgeous the final melody is. In this app there are also lots of audio loops and pro-like tools like crossfaders for your kid to experiment with.
Toc and Roll
Toc and Roll is a powerful educational tool to encourage primary-school children to start composing their own tunes with the help of over 1000 different sounds of 10 real instruments (for example, guitar, trumpet, drums, piano, etc.) available in a music bank of this application. Tocc and Roll also allows children to record their voices so that, as a result, you can get a standalone song with lyrics and music recorded in one of the various styles: Blues, Rock and Roll, Pop, and others. Cute animated characters provided make the process of creating music even more enjoyable.
Purchase Toc and Roll for $1.79
Kapu Bloom Tunes
Probably, the fourth place on our list is taken by the most creative app - Kapu Bloom Tunes. It blends music composition with painting in a surprisingly easy way! Children trace their fingers on the digital garden scenes to make the story develop. When the plants grow, they produce sounds and sing nursery rhymes. A kid listens to ever-changing melodies, combines them differently by initiating different actions on a screen, remembers them, and tries to repeat them. Moreover, he or she watches nicely drawn cartoons with an appealing plot.
Purchase Kapu Bloom Tunes for $1.99
Let's go to the Opera!
This app isn't about making music, it's about learning its history, and the history of opera in particular. Here, your child is greeted by a friendly guide who accompanies him or her on a tour to a theater and shares the most intimate secrets of inner life of an opera house. Orchestras, singers, choirs, dancers, lights, scenery - all at fingertips! A virtual opera experience will definitely help you and your kids discover more opera genres, observe the architecture, learn about opera singers types, and much much more.
Download Let's go to the Opera! for free
To continue reading about apps, gadgets and services that provide much help for caring mums and dads, please check the article on 5 gadgets to forget about fidget and the article on video portals for kids.