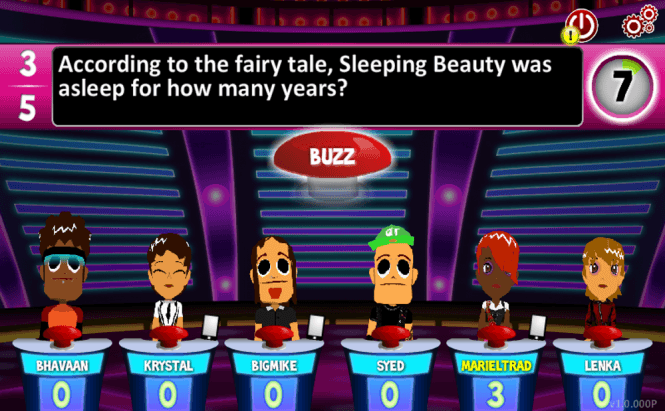 5 Trivia Apps for Android
Trivia games are enjoying a renewed popularity nowadays; the simple and challenging nature of old-school quiz games seem to attract users of all ages, even those who rarely play mobile games. Modeled after classics like Trivial Pursuit or Jeopardy!, quiz apps for Android offer quick fun while giving you the possibility of learning a little bit of something. With the addition of social features and the chance of playing online with friends, social trivia apps are an irresistible choice for when you have some time to spare. Without further ado, let's take a look at the most fun trivia apps on the Play Store.
QuizUp
Already classical among social trivia fans, QuizUp is a fast-paced game that challenges your knowledge in real-time, head-to-head matches against other players. What makes QuizUp so attractive is its truly challenging gameplay and the overwhelming number of topics available, which range from general knowledge questions, (history, grammar, etc.) to specific topics related to TV shows, the World Cup, and hundreds more. During six rounds of ten seconds each, you have to answer 6 multiple-choice questions faster than your rival; the goal is to obtain the highest score possible and make your way up to the top of the ranks. A number of achievements, titles, and other special goodies are available to distinguish the most knowledgeable players. You can play against your friends (Twitter, Facebook, or Google+) or random users around the globe. What's more, the program provides an ability to reply fast and a solid knowledge on the selected topic. QuizUp is free to download and does not feature ads.
Trivia Crack
Trivia Crack
Trivia Crack is a lively and colorful social trivia app that tests your skills on a series of random questions in six categories. Taking turns to play against your Facebook buddies or random opponents, you have 30 seconds to choose the correct answer among a number of options. The ultimate objective of the game is to obtain the six game characters before your rival. If the spinning wheel lands on the crown, you have the possibility to choose a character to complete your gallery but you can also challenge your friends on a duel! The game is engaging and fun, particularly when connected to Facebook, where you can share your achievements. The number of questions is constantly updated with user-submitted suggestions, which guarantees you won't see the same question twice.
SongPop
SongPop
SongPop is a multiplatform quiz game that challenges you to demonstrate how much you know about music. SongPop is entirely a social, multiplayer game where you are asked to identify the song or artist you hear choosing one of the possible answers. Points are scored for every correct reply and extra points are awarded to players who manage to answer fast and identify several songs in a row. For every round you win, you get coins that can be used to buy additional playlists to add variety to your game or powerups to shuffle playlist or remove incorrect options from the list of answers. You can log in to SongPop using your Facebook account and challenge your friends or sign up with your e-mail to play with random users.
Superbuzzer Trivia Quiz Game
Superbuzzer is a thrilling trivia game that simulates the format of popular TV quiz shows. It is a multiplayer, real-time game where five players compete to become the Buzzer Champion. The game consists of three rounds, each one with five questions of general knowledge, and starts when there is a total of five players in the set. When a question appears, you buzz and type in your answer. The idea is to answer fast and make it to the next round, and ultimately to the final, which is a head-to-head battle between the most skilled players. The game is very entertaining and becomes more challenging as you level up. The wide variety of questions plus its unique graphics make it all the more fun.
MovieCat
MovieCat
MovieCat is a trivia game for movies aficionados with an extra touch of charm. The game is hosted by a group of cats that test your knowledge in three difficulty levels, presenting classic films in the most fun and diverse ways. It consists of five rounds, each one with 5 puzzles that you have to solve using your knowledge on the subject. Puzzles are varied; you may be asked to answer simple multiple choice questions, guess a movie by the dialogs, match the movies to the actors who starred in them, among the most interesting ones. You start up with 9 cat lives, and the objective is to survive along the whole game to unlock a special Cat Scene.
To sum it up, these are only 5 apps of many more you can find on the Play Store today. Just select ones you enjoy the most and have a nice time!