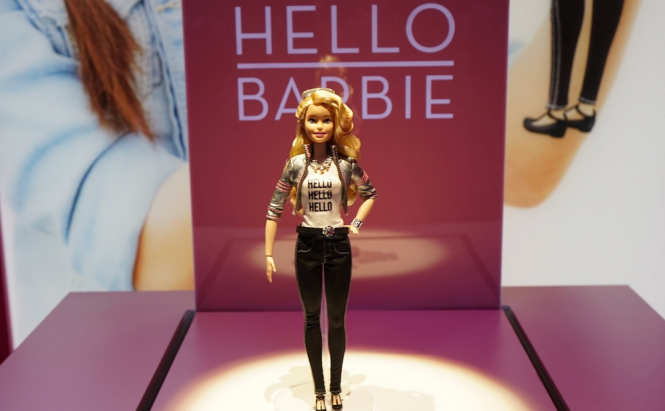 Hello Barbie hologram for your kids
Smart dolls that listen to what you say and talk back to you aren't top-of-the-line technology anymore. From now on, your children will probably ask you for holographic toys that aren't only capable of having a conversation but also move around on their own as if they were alive. Since Barbie is a trendsetter when it comes to toys for girls, it's only normal that Mattel, the company that manufactures the well-known dolls already has a fully functional holographic model.
The Barbie hologram was first shown this weekend at the Toy Fair in New York and it didn't only amaze all the children in the audience, but also most of the adults present. From what I've seen, the toy is actually a box that you can place on a nightstand or on a table and the holographic version of barbie resides inside the glass walls of that box. As far as functionality goes, the virtual Barbie can already do a lot of things, but the list will most likely grow as the developers have more time to work on it.
Barbie hologram
For starters the holographic doll can mimic the functionality of the Hello Barbie doll that Mattel launched in 2015, being able to respond to a wide array of voice commands such as telling you what the weather is like, what time it is and more. The Hello Barbie hologram can also remind children to do their day-to-day chores such as brushing their teeth and even pulls out her own little toothbrush so that your kids will have some company. Additionally, the virtual toy can be programmed to remember your child's birthday and can save reminders, but you'll have to use its mobile app to set those up. As far as movement goes, I've seen a video of the Hello Barbie hologram dancing and it looked pretty life-like. According to Mattel, the toy can dance to its own music playlist, but also to the songs that your child selects and since the box doubles as a Bluetooth speaker, your kids will be able to join the Hello Barbie hologram in her dance sessions.
Barbie hologram dancing
Another thing that your kids will probably love is the fact that you can also modify Barbie's appearance by using the Change my Barbie voice command and selecting one of the other characters from the Barbie universe that are available. At the moment, there are only female characters, but what's actually really cool is that you can choose from a variety of races and body types so that your girl's first role-model doesn't have to be a thin white girl.
In case you're interested in buying the Hello Barbie hologram for your little girl, you're going to have to wait a while as the toy is supposed to officially hit the markets this fall. Unfortunately, I don't have any information about how much the virtual doll is going to cost, but I bet it won't be cheap. This means that if you can afford one, you should make sure that your kids understand that the little Barbie will die if she's freed from her glass box.
If you're a parent you may also want to read some of our other stories like "Setting up parental control on iPad" or "Browsers for children".