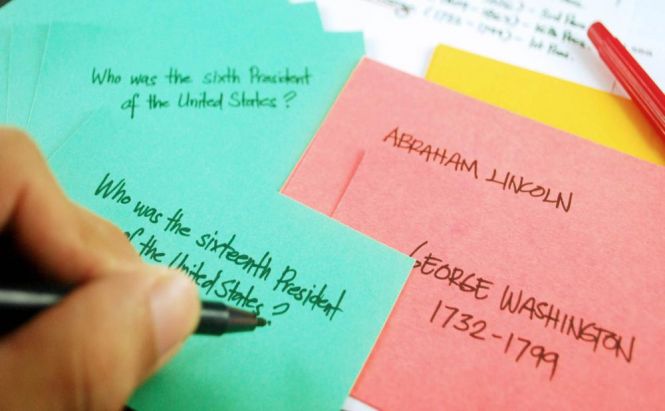 FlashCard apps for flash studying
Flash card is a card which shows a word or a picture, held up for students to see as a learning aid. It's a great helper for teachers and professors, as well as for pupils and their parents. Flash cards are of great use when you are cramming for next week's tests. You can learn any type of words/numbers/events on any subject. These cards may also be useful at work, because there is always room for improvement. Below is a set of top 4 Android apps that will serve you faithfully.
Flashcard Maker
Flashcard Maker is the first app in the list, since its interface is very intuitive, and it's very easy to create sets and manage them. Select the most suitable mode (Word First/Meaning First) to learn the words and then pass the test. Multiple choice quiz lets you select one of several variants followed by the percentage result. In case you have any questions regarding the steps, address the user guide in the main menu. The only disadvantage is the abundance of ads. To get an ad-free version, you need to pay.
Download Flashcard Maker for Android
Flashcards Maker
The developers offer creating your deck of cards by clicking on the '+' button. The procedure is the same: you type the word, then add its definition. Afterwards, learn the words using the flash cards you've created and pass a test. There are also demo cards to try and see how the process looks like. The app is very helpful and should be installed in case you're looking something simple and fiddly.
Download Flashcards Maker for Android
Flashcards [::]
Flashcards is a flashcards app that will also help you with your studies. Not only does it let you create your own cards, but it also downloads a lot of pre-designed ones to learn something new. There is also an option to make card collections and unite your cards in folders, which makes it even more convenient to manage the objects. Quizzes are provided to train your brain even harder and feel more confident during a test. A great replacement for sticky notes.
Download Flashcards [::] for Android
Braincards Flashcards
I like this app the most because of its colorfullness? and simplicity. You can open the app at any place without Internet access and spend some free time by educating yourself. There are no annoying ads capable of spoiling any more or less interesting app. As I've already mentioned, I like the design, and in my opinion, the app deals with its task 100%.
Download Braincards Flashcards for Android
Here is a couple of articles you might find interesting: Online Self-Education to learn something new every day or If I were a student... to install some useful apps right now. Students can Pass Career Aptitude Test Online to know if they've chosen the right way or not. If you have something to add to this list, please comment on your offers in the comments section below.