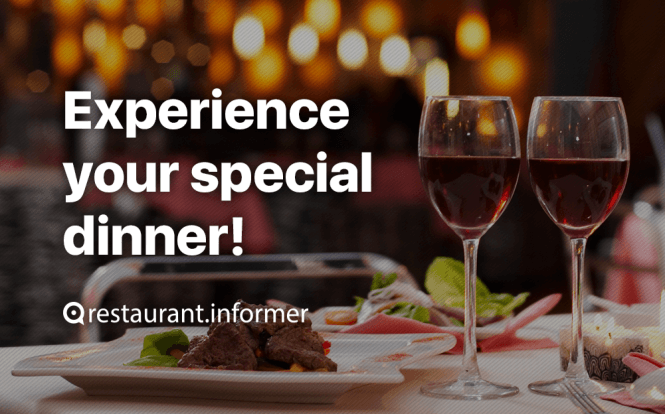 Restaurant Informer: choose the best place to dine at
Dear friends, сheck out Restaurant Informer! It's a convenient and colorful website that guides you through the world of restaurants. The developers have done their best to make it easy to navigate thanks to а highly intuitive design. Restaurant Informer can be used at home, on the way, during a journey or on vacation. Now, it is possible to check restaurants around France only but, with time, the whole world is to be covered. Let's see what the site is capable of at the moment.
Say, you go to France on a business trip and while walking along the streets in Paris, you want to dine somewhere. You open Restaurant Informer and within seconds it shows best restaurants near you already classified by cuisine and place type that may interest you. Besides, you can check the nearest cities with the biggest number of restaurants.
I suppose you should also pay attention to one more aspect of the search bar: you can look for cities, exact restaurants and even places of interest. The latter option helps you find the closest cafe to your taste near the planned excursion spots saving you time and effort.
Search results
Also, when you are searching for restaurants near, let's say, the Eiffel Tower, you can make your search even more personalized and sort restaurants according to their ratings received from the respected agencies: Michelin, Yelp, Foursquare, Frommer's, TripAdvisor, Facebook, Google, and the overall score that is provided by Restaurant Informer.
You can arrange places by cuisine and restaurant type, average price, or have a look at those that are open right now. A short resume of the main info about each of the places is provided for your convenience under each restaurant name: its rating, cuisine and average price. This is made to ease the process of finding the restaurant up to your taste in mere seconds.
If you want to study a restaurant in detail, visit its entry page. From there, it is easy to form the first impression of the place without visiting it in person thanks to photos, reviews and the data provided. Check out if the restaurant is open now, what menu is offered, how agencies and customers rate the place and view the phone number to order a table. You can either scroll down the page or use the navigation buttons (Description, Location, Reviews) for quick access to the corresponding sections.
Restaurant Information
An in all, the ambitious project Restaurant Informer is created to make it easier for you to find the place to have a meal at that fits your plans the best, no matter where you are. It is born to make your journeys and evenings in your native town even more comfortable than before.
It's great to discover that Restaurant Informer also offers a mobile application for its users to let them explore best restaurants right on the go! Restaurant Guide is released both for Android and iOS platforms and available absolutely for free. The additional information about a straightforward app can be obtained from the article "Restaurant Guide: find the best place to eat at".