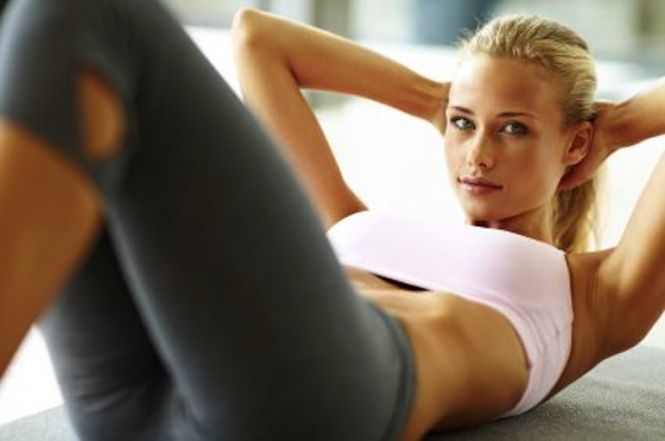 Apps for Your Abs And More
So how can we narrow it down to just a few apps for our Android devices? I think that we would need to first of all consider their popularity, overall rating and uniqueness. We also need to make sure that they are user-friendly, bug-free and have potential for further growth and innovation. I find that these five apps meet such criteria today.
Zombies, Run!
If it's hard to work up your motivation to exercise, convert an annoying jog around the neighborhood into a thrilling running game, fleeing the horde of undead in Zombies, Run!
As you run, you will collect supplies (such as arms, water and medicine) which you will need in zombie apocalypse. The further and faster you go, the more supplies you collect in this game-based app. Simultaneously, the app tracks your running stats, such as calories burnt and distance jogged, as well as the game stats, such as supplies collected and zombies evaded. Even while you jog in place (traffic light), the stats are counted. Using either pedometer step tracking or GPS, Zombies, Run! gamifies exercise with a storyline played over your headphones. The written plot and the acting voice are amazing, and each mission can be infused with your favorite songs from your playlist. The app has over 160 episodes and a Zombie Chase interval training program. You will enjoy playing it outdoors or on your treadmill. More than 900,000 users participate in this running game.
Runtastic
Don't like zombies but enjoy running? Then Runtastic is better. It measures your stats (duration, distance, speed, calories burnt, altitute, etc ) and creates your personal fitness diary and graphs to keep you motivated. It maps your running routes in real time and collects historic data so you can see your monthly results. You can also receive motivational messages and a personal trainer (feedback voice), if you choose so. The app features a fully integrated music player for a complete and pleasurable workout experience. You can easily use it while biking, hiking and walking.
RuntasticPro version has additional features:
geotagging – gathering variety of useful data from your routes, returning information-rich maps, which you may use to plan your outings,

powersong to activate high performance,

feedback regarding proper hydration, based on your physical state.

Runtastic has an impressive number of dowloads: over 60 million as of January 2014!
NIKE Training Club
Nike Training Club
If you prefer gym-style workouts to running, join the virtual health club, with over a hundred full-body workouts from some of the world's most inspirational female athletes, trainers and celebrities. Exercise sesions, 15, 30 and 45 minutes long, are complete with step-by-step audio and video demos, exercise written guides and a gentle motivational voice of a personal trainer, if you wish.
First you need to set your goals:
Get lean

by burning calories and losing centimeters, with high intensity training sessions.

Define your muscle tone

with prolonged sessions using light weights.

Get strong

using slightly heavier weights to power up your body.

Get focused

, with additional exercises if you have done enough cardio and want more.
Then you select your level: beginner, intermediate or advanced. If you are a beginner, some exercises are modified, for example push-ups with knees on the floor. Do not be fooled, the advanced level is really hard! Even the intermediate level will keep most of us challenged. Tailored workout programs make this app uniquely functional, regardless of your goals. Whether you choose a 4-week program matching your abilities or supplement your regular workout sessions, this app goes beyond the basic instructions to measure your progress in number and duration of workouts and calories burnt. Even though this app is targeted for women, men also enjoy it and have requested a men's version.
Period Tracker Deluxe
Period Tracker Deluxe is another useful app for women. With an attractive icon for your desktop and an abbreviated label "P Tracker", it has a user-friendly customizable interface, making it easy to log the days of your cycle. You can register other relevant details, such as moods and symptoms. Your personal data is protected with an access code and you can export the information for your medical visits. You will know when your ovulation is for better planning, whether you are looking to become a mom soon or want to stay away from pregnancy.
Sleep Cycle
Sleep Cycle
In our sleep-deprived society, physicians cannot emphasize enough how important it is to get regular good night's sleep. Furthermore, from the scientific research on sleep, it turns out that sleep phases are also important. So you need to wake up at the right moment, without disturbing your sleep cycle. Say hello to the new way of waking up. Sleep Cycle is a bio-alarm clock which analyzes your sleep patterns and wakes you up when you're in your lightest sleep phase. Waking up at that moment allows you to start your day feeling relaxed and refreshed. Sleep Cycle accomplishes this by waking you up during a 30-minute window that ends at your set alarm time. Take your phone in bed with you and let the app monitor your nocturnal movements through an extremely sensitive accelerometer built in your phone. Our movements change, depending on the sleeping phase, ranging from light to deep. The app was built based on findings from extensive scientific research on sleep. Sleep Cycle tracks nightly statistics and plots the data on the graphs. It provides notes, detailing how everyday factors, such as drinking coffee, stress or overeating, may affect your sleep patterns. It also provides you with 15 carefully selected melodies for your alarm (of course you can also chose from your playlist).
Whether it's working out, staying fit or keeping healthy, these Android apps will help you. Of course you may argue that your goal is losing weight, eating healthy, monitoring medications or managing stress. In that case, check out some other health and fitness apps on Google Play and let us know what you think.