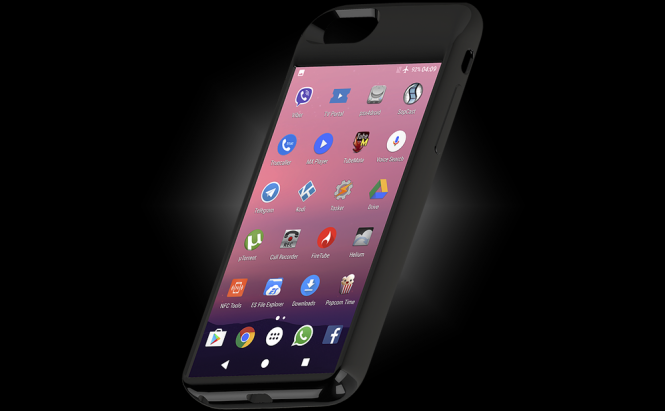 ESTI's Eye – an iPhone case and an Android phone
Not long ago we've made a list of ten best accessories for iPhone 7. Meet number 11 – it's a doozy! This past Monday an Israel-based startup ESTI has launched a Kickstarter campaign for a product that completely polarized the community. The company promises to release an iPhone case that doubles as a separate fully-functional Android smartphone! Let's see what this fuss is all about.
What's under the hood?
The prototype is called 'Eye' and it boasts of having a 5" Full HD AMOLED display, an octa-core MediaTek Helio P20 processor onboard, 3GB of RAM and a 2,800mAh battery. The phone has two SIM slots und runs under Android 7.1 Nougat. Obviously this is not a top configuration for a modern smartphone, but the positives do stack up when you realize that it is designed to complement the iPhone in the first place. The Eye has a MicroSD slot that supports up to 256GB of additional storage that links to your iPhone via a Lightning connector. The 3,5mm jack let's you use your favorite headphones on an otherwise jack-less iPhone 7. With a screen-mirroring function you can make selfies using the hi-rez rear camera. The Eye's battery serves as an extension for your iPhone's battery and with a Qi support you can charge the device wirelessly! Add an NFC support and an infrared module – that turns the device into a remote control for household appliances – and you'll get a neat digital multi-tool in an iPhone case.
Not for everyone
The main controversy surrounding the Eye appears to mainly focus upon its bulky design. Many iPhone purists have already deemed the product as "unnecessary" or "downright ugly" – as it literally turns the Apple's handset into a massive brick. You just can't fit a smartphone into an iPhone case without some sacrifices in weight and appearance. There are also some major concerns about the screen quality based upon the early screenshots, but these are quite understandable at this stage of development. And, finally, since ESTI is a newcomer on the mobile market, some doubt that the company can fully deliver upon its promises. The hopes are high though.
An early bird bargain
The Eye will be available worldwide this August
The Eye is definitely a niche product, but a very intriguing one for sure. Since the start of the Kickstarter campaign it has already accumulated around 300.000$, which is three times more than the initial $95,000 goal! The campaign is still going, so if you're interested – you still have a chance to preorder one for as low as 95$. The retail version will cost around $189 and will be available worldwide this August. The device will come out in two basic colors – black and white and will support all variations of iPhone 6 and 7. ESTI also promises to release an iPhone 8 compatible version as soon as the handset hits the shelves. Let's wait and see.
If you find the article interesting, you might as well enjoy our previous Android-related entries, like "Turn your Android device into a second PC monitor" or "Google Assistant is coming to your Android device".