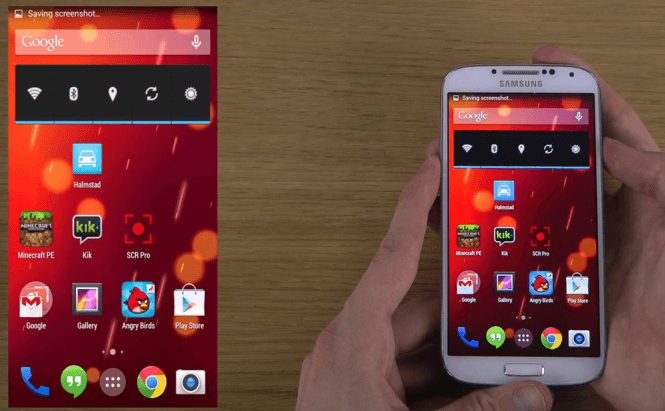 How to take screenshots on Android devices
Have you ever wanted to capture a screenshot on your Android smartphone or tablet, but didn't know how to do it? Before Android 4.0, this was actually quite complicated, as you needed some special apps and a rooted phone to be able to complete such a task. However, nowadays, things are a lot easier than you would expect, and you only need to push a couple of buttons. Here is a small guide showing you how to take screenshots on Android devices.
Whenever you're dealing with smartphones and tablets, there's a simple rule: check to see if the device has a Home button (like Samsung phones and iPhones do) or a regular three-button menu like all the rest. Basically, whenever you want to capture a screenshot on a regular Android gadget (one without the Home button), all you need to do is press the Power button (the one you use to wake up or put your phone to sleep) together with the Volume Down button (on the side of the gadget). The device will take a photo of whatever is on your screen at that moment. This works for both smartphones and tablets.
If you have a Samsung device (or any other with a home button), the power and volume down button combination won't work. Don't worry, the process is nothing complicated; it just requires a different combination of buttons. To take screenshots on Samsung phones, you need to press the Power button along with the Home button (at the same time). The device will instantly take a photo that you can then view on your device or easily share via WiFi, Bluetooth, email or any of your installed apps. As far as I know, the iPhone's screenshot function works exactly the same.
Of course, there are a few exceptions to these rules, as certain devices are wired differently:
Samsung S6
The devices from Samsung's S6 series have an additional screenshot-taking method, but you must enable it in the smartphone's Settings menu. So, the first thing that you need to do is go to the Motions and gestures category inside the Settings screen, then look for the Palm swipe to capture switch and turn it On. The feature's name is pretty much self-explanatory: after enabling it you can simply swipe your palm across the display of the device, and the screenshot that you wanted will be saved.
Sony Xperia Z5
Sony Xperia Z5 is another device that provides an easier way to capture screenshots: simply keep the Power button pressed for a little bit, and you will see a list of options. Under the Power off and Airplane mode options there's a button that allows you to take a screenshot or start recording a video of your screen. While this very easy to use, the big disadvantage is that you don't instantly get to see the image that you're going to capture, as the power menu will overlay will obstruct your vision.
Older phones
As I said in the beginning of this article, if you have a device that is powered by an Android version older than the 4.0 build, taking a screenshot can be quite a hassle. Fortunately, very few people still have those older devices, but in case you do, here's a simple solution: No Root Screenshot It. This app may cost you $5, but (as its name states) it will save you the trouble of having to root your device. Additionally, the application is quite user-friendly and gets the job done, so you don't need to worry about not getting your money's worth. In case you don't want to pay, the only thing I can do to help you is to point you towards this guide that will show you how to root your Android device. As far as what apps you should use to take the screenshot, you're going to have to find that out on your own, as their effectiveness depends on the device that you have. You will just have to try them out and figure out which one works for your specific phone or tablet.
Now that you know how to take screenshots on Android devices, you might also want to find out how you can "Find and control your lost or stolen phone" or check out these "Easy steps to reduce your mobile data usage".