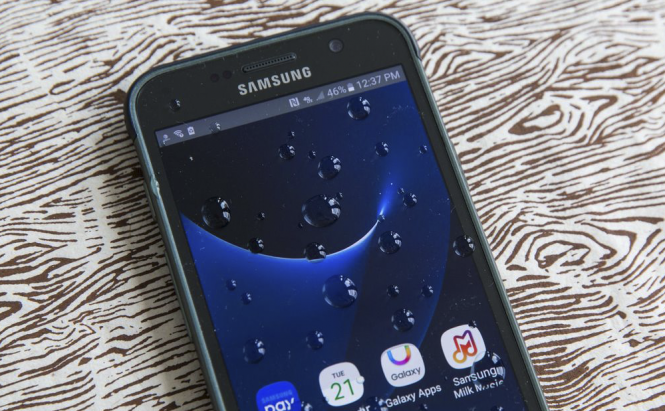 Galaxy S9 and iPhone 9 to come with new waterproof coating
Long gone are the days when a smartphone was just another technological fad. For a modern person it is as essential and crucial as a pair of shoes or a toothbrush – an integral part of our life. That's why the common fear is to lose or break your precious device. After the shattered screens the liquid damage appears to be the second universal cause of smartphone malfunctioning. It has been estimated that in 2016 more than 900.000 devices got damaged by liquids daily.
The industry has acknowledged the issue long ago and came up with two basic solutions. The first one is strictly mechanical. Some manufacturers use rubbery insulators or gaskets to keep the device waterproof. Samsung, for instance, chose to design Galaxy S7 as a completely sealed unit. This approach, however, leaves much to be desired, as it makes repair and maintenance of such devices somewhat problematic. The second solution is nano- or chemical vapor coating, spearheaded by such companies as HzO and P2i. The trick is to coat the device with an extremely thin layer of a water repellent chemical compound. When water touches the surface it separates into droplets that easily roll off. This makes the phone water resistant but not completely waterproof. In other words you still can't take such a device to the bath, at least not yet.
Nano-coating turns liquid into beads that roll off the surface
The future of nano-coating is brighter than it may seem. P2i, for instance, have been a major player in the field since 2011. They are already backed by Lenovo, Huawei, Motorola and Nokia. Now they are working on a new barrier coating that can be applied onto the circuit board and the battery of a smartphone, making the device truly watertight. We should see the first handsets utilizing the improved formula as soon as 2018. If it proves to be a success – such companies as Samsung, HTC and LG will be eager to opt for it. P2i have announced recently that even Apple showed some interest in their technology. Last year's iPhone 7 and iPhone 7 Plus were the first water resistant handsets from the tech giant, which proves once again that Apple means business.
The adoption of the technology can create a positive resonance industry wise as it will eliminate the need of mechanical protection and untie the hands of the designers. The 2018's Samsung Galaxy S9, for instance, could see a major redesign as there would be no need for a sealed housing. We could also see the return of removable batteries on the industry's flagmans. It should be noted, however, that the technology is still pretty expensive, so there's no chance to see coated budget models in the nearest future. Anyway, whether it will be a P2i's nano-coating or an analog it is safe to say that your favorite smartphone manufacturer is doing everything they can to provide you with an ultimate bathtub experience.
If you find the article interesting, you may also like our previous entries, like: "Apple Watch Survives 15 Minutes Under Water" or "Unsinkable: 5 Waterproof Smartphones".