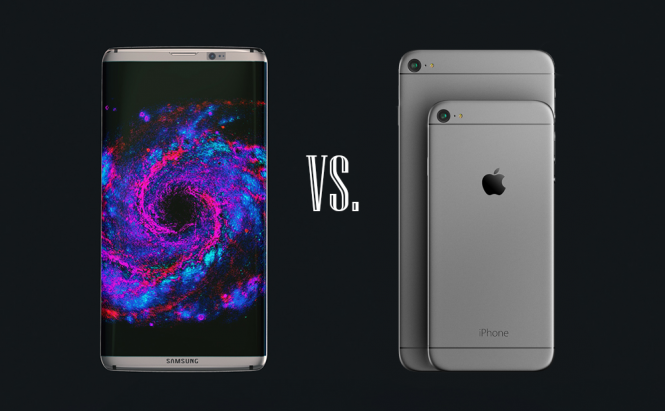 Here's why Galaxy Note 8 will be superior to iPhone 8 Plus
There is an ongoing game of catch-up between Apple and Samsung, and with the launch of Galaxy S8 the stakes are higher than ever. Both companies are expected to come up with miracle devices, but for different reasons – Apple marks the iPhone's 10th anniversary this year, while Samsung has to recuperate from the ill-fated Note 7. With the latest leaks of Galaxy Note 8 specs and the ongoing buzz around iPhone 8 Plus we can speculate on which handset is going to win in 2017. Samsung seems to have the upper hand.
It's all about the size
While some say that iPhone 8 Plus could come out with a 5.8-inch OLED screen potentially blurring the line between an iPhone and an iPad mini – Samsung is rumored to enlarge its phablet up to 6.4 inches. This is quite a difference. Add a wraparound display, a 4K resolution and get rid of the 'home' button and you'll get the picture of a Korean handset – both unique and incredibly stylish. The 4K display might also contribute to a major RAM boost. It means that Note 8 may come out with 6GB of RAM, against the rumored 4GB on iPhone 8 Plus.
Then there is the storage issue. In its most expensive setup iPhone 8 Plus is rumored to come with a 256GB of storage. While this is more than enough, considering the Apple Cloud integration, users may still want to choose the Samsung mainly for the traditional SD-card support. Note 8 can come with 64GB onboard but with an SD card you'll be able to bump it up to 256GB – which is on par with the iPhone. Then, all you'll need is a decent file manager, like the SD card manager and you're good to go.
Considering special features
Galaxy Note 8 to have a 6.4-inch OLED wraparound display
While both of the devices are expected to come with similar 12-megapixel dual-cameras the quality of taken pictures will largely depend on the software. It's just too early to judge. The same goes for the wireless charging as both handsets will have such an option, but the physical performance is impossible to compare at this stage. What we do know is that the companies have very different approaches towards VR. Apple seems to place all the bets on augmented reality – both in security features and gaming – while Samsung is going strong on the Gear VR compatibility. VR-enthusiasts can rest assured that Note 8 is going to deliver the best performance and the level of immersion the current mobile VR has to offer. Finally, the stylus – that's been a staple for Note series for a while now – is rumored to get a speaker on top.
Comparing estimated prices
There probably won't be any major shifts in the fan-bases – Apple lovers will still buy the new iPhone and Galaxy fans will stand in line for the new Note 8. Both handsets will be pricey as is expected from the premium products – with iPhone 8 plus crossing the $1000 range and Note 8 somewhere around $900. The difference in estimated prices is not that big, but taking into account the features where Note 8 really shines, it could be just enough for new users to opt for the Samsung. We are sure to get more details in upcoming months so stay tuned!