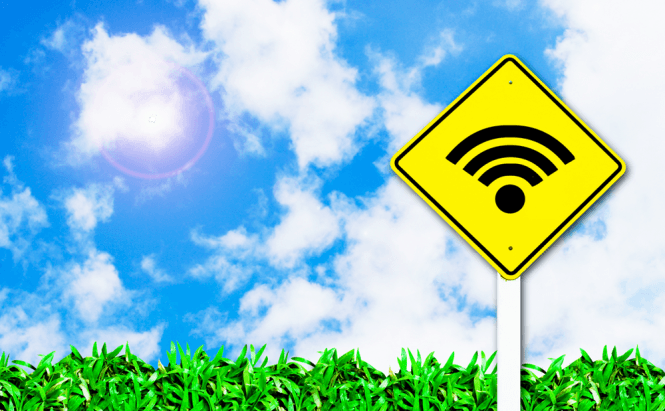 Best Wi-Fi security tools for Android
I still remember the dial-up days and even the time when there was no Internet, so the fact that you can now access the web from your phone in coffee shops, malls or restaurants via WiFi never stops to amaze me. Going to Facebook to check-in and share your location with your friends or looking at YouTube videos at McDonald's is pretty cool, but how safe it is it? Since Internet connections provided by phone companies are capped and pretty expensive, most of us prefer using hotspots when they're available, but that comes with inherent risks. When WiFi is turned on, your smartphone automatically connects to networks you've already been in, and if a cyber criminal sets up a bogus hotspot, it will instantly get access to all your data. Furthermore, even if you're on a safe wireless network, there are tools that can listen in to the data you're transmitting and intercept your private chats, or worse, things such as your passwords and card information. Here are some great tools for Android smartphones which help you avoid this kind of problems.
AMC Security
AMC Security
Although I generally don't like apps that try to cover multiple fields instead of focusing on just one, IObit's AMC (Advanced Mobile Care) is one of my personal favorite tools. Beside offering some features that help speed up your device, this application provides multiple security features that are quite effective. The app has a powerful anti-virus tool which keeps you safe from all kinds of infections, a Surf Guard that warns you when stumbling upon a malware-infected website and a Payment Guard to help you stay away from copycat apps. However, the reason why AMC Security is on this list is that it embeds Wi-Fi security features which check the encryption provided by the hotspot you're connected to and keep guard against ARP spoofing and MITM. Moreover, AMC reviews your device's security settings and gives you valuable advice about how to improve them.
AVG Secure WiFi
AVG Secure WiFi
AVG Secure WiFi Assistant is another efficient app that will prevent WiFi connections from harming your device or compromising your data. This app analyzes hotspots within range, verifies them and automatically turns Wi-Fi off on your phone if it detects something fishy. Additionally, the application helps you connect via a VPN that ensures that the data you send is encrypted (which makes it very hard to intercept) and masks your IP, thus helping you keep your anonymity and privacy.
WIFI Security+
WiFi Security+
Just like the previous two names on our list, WiFi Security+ can help you avoid suspicious hotspots that put your data in peril, but takes a less drastic approach. While the other two tools can automatically stop you from connecting to potentially dangerous wireless networks, this one simply describes status of the connection (safe or dangerous), and you can choose yourself if you want to keep using it or not. Additionally, the application provides a list with 10 recently used hotspots and information (when it exists) about all the Wi-Fi connections within range.
CM Free WiFi Security
CM Free WiFi Security
CM Free WiFi Security is a really effective tool when it comes to Wi-Fi security. This application checks every hotspot that you connect to and doesn't cut any corners in doing so. The app verifies the DNS server, makes sure that the connection is encrypted and checks to see if you're connecting to a public Wi-Fi or a fake one. Furthermore, CM WiFi Security protects against ARP cheating and Wi-Fi hacking. Additional functionality includes very handy connection testing tools which tell you what download and upload speed you can achieve while connected to a specified hotspot.
Hotspot VPN
Hotspot VPN
Since there are a lot of easy-to-use tools that can sniff the data being wirelessly sent in their area, using a VPN while connected to a public hotspot is a very good idea. Hotspot VPN is a tool that helps you do that with ease by providing you with free and uncapped access to virtual private networks. When you connect to the Internet through a VPN, all the data you send and receive is encrypted, which makes means that even if gets intercepted, the person doing it will have a very hard time deciphering it. Additionally, when you use Hotspot VPN, you can also access content that is normally unavailable in your region, hide your real IP and bypass firewalls. Lastly, Hotspot VPN has one of the friendliest interfaces I've seen in an app of this kind, so you won't have any trouble using it.
Private WiFi
PRIVATE WiFi, a Secure VPN
Just like Hotspot VPN, Private WiFi lets you connect to public hotspots using virtual private networks, but this app is more of a pay-to-use one. To be totally honest, it's more secure than most similar applications (offering 128-bit encryption), and the overall network speed is higher, but the fact that you have to pay to use it keeps a lot of people away. What's really great about this tool is that it provides 24/7 assistance, so if you encounter any problems while using it, you can always rely on the tech support to help you out.
If you're still unsure about which of the applications listed here to use, I recommend using a combination of a pure Wi-Fi security tool and a VPN app. I use AMC Security and Hotspot VPN on my phone, and it's pretty effective, but you can try multiple combinations and see which one works best for your own needs.