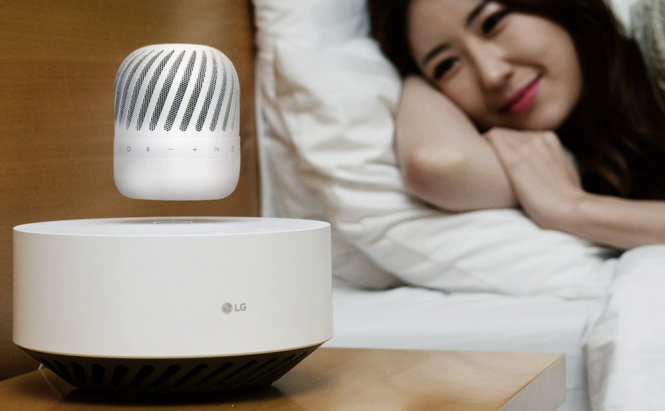 Check out LG's new levitating speakers
If you're the kind of person who's interested in futuristic tech, I've got some good news for you: LG has just unveiled its levitating speakers that will be displayed at next month's CES event. To be perfectly honest, I didn't have the chance to test the device's audio capabilities, but it looks pretty awesome, even though it somewhat resembles hospital furniture. Of course, the gadget's price hasn't been announced yet, but here's everything we know about the levitating speakers so far.
LG's levitating speakers
The device has a wide base unit that uses electromagnets to keep the top part levitating over it. The smaller bit, the one that hangs in the air, has a series of small buttons around it, which allow you to issue various commands. As far as the audio is concerned, the floating piece is a uni-directional speaker that uses Dual Radiator technology to offer high-quality mid-range and high tones, while the base is in charge of the bass. The levitating speaker uses Bluetooth to connect to your other devices and can stay in the air for up to ten hours of listening. When the battery runs out, the levitating part will slowly descend into the base where it will charge, but the good news is that playback won't stop during the charging period.
If you're interested in checking out some other cool technology, I recommend reading: "Microsoft's Hololens now gets 'Holoportation'", "Check out Peggy, the smart clothespin" or "Use your finger to answer a phone call".