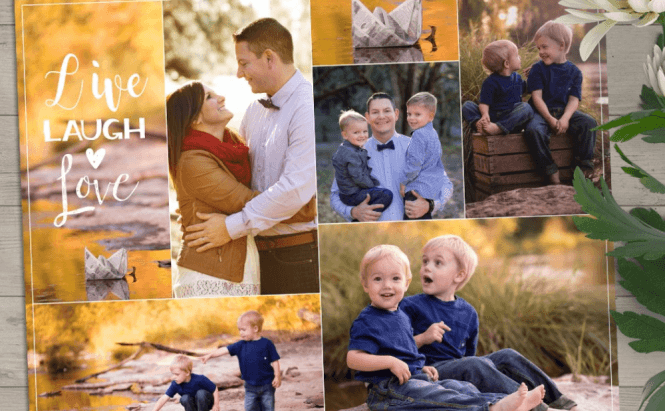 Make photo collages on Android
Nowadays, almost every device embeds a camera, so it's no surprise that people take lots of pictures. However, finding the right way to present them has always been a challenge. Creating a photo collage is a great solution either as a gift or simply as something to show your friends, and the good news is that you can do that directly from your smartphone or tablet. If you want to try, here are the best apps to help you make photo collages on Android.
Photo Grid
Photo Grid
Photo Grid has been the most popular collage-making application on the Play Store for a while now and that doesn't happen by accident. This application helps you embellish your photos by using a wide variety of filters, stickers, borders, inserting texts and even doodling on the images. Furthermore, this tool is incredibly easy to use and offers truly high-quality output files. However, what makes Photo Grid stand out is its ability to create Video Slides; as far as I know, this is the only app of its kind that lets you create video stories from your pictures.
Pic Collage
Pic Collage
Another well-known collage-making tool, Pic Collage, offers an impressive amount of effects, fonts, stickers, borders, backgrounds and what's even better - the new things are added constantly. This application can help you make collages from the photos stored on your device as well as from images taken from social media websites like Facebook. I also really liked the fact that the app makes it easy to search for other people's creations in case you need a bit of inspiration. Lastly, Pic Collage works with the popular Aviary image editor, so whenever you double-tap an image it will automatically be opened in that app.
Lipix
Lipix
Focused on special occasions like Christmas, birthdays, wedding, celebrations, etc. Lipix may not offer as many feature as the previous two applications, but it's still worth checking out. The application provides 90 templates that you can fully customize either by modifying the borders or by adding one of the 12 magic effects. Another plus is that you can easily share the output collages on Facebook, Twitter, Flickr and many other media outlets.
PicGrid
PicGrid
Last on our list, PicGrid is one of the most underrated applications of its kind. This tool is straightforward with a neat interface, which can help you save a lot of time. To be honest, the app doesn't have any unique functions, but it still provides over 200 frames, more than 400 stickers, 14 effects and over 100 choices for the layout, so you will have more than enough options to unleash your creativity.
Now, when you've seen our picks for the best apps to help you make photo collages on Android, you might also want to read some of our older stories like: "Keeping private photos hidden on Android" or "Top face changer apps for Android'.