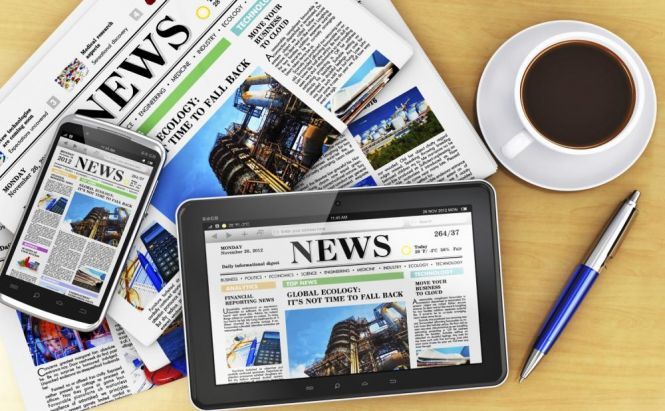 Free news apps to keep up
A word before we take up the apps themselves about digital news reincarnation. Digital life goes faster, pace of living moves faster, time to read news reduces imperceptibly. That's why it's no surprise that users tend to scroll their news feed rather than to buy newspapers or turn on TV. Now, a tremendous number of people digest breaking news via social media, web browsers and applications. Here is a rundown of 5 Android informative news apps from professional news organizations.
Google Play Newsstand
In case you adore finding answers to 'Wh' questions (like Who? Where? When? Why?), this standard Android application is your buried treasure. Google Play Newsstand provides several independent categories like News, Business, Entertainment, Sports, Technology, World and highlights some world's most important events. The app adjusts а language according to your geolocation, thus making reading experience even more pleasant. Read→follow→share. With ease.
World Newspapers
This popular app is a digital bookshelf with a lot of famous news publications on. World Newspapers lets you have at-hand access to such well-known sources like Wall Street Journal or Financial Times in different languages, for example. The app library has numerous local and foreign newspapers & magazines included. Once installing the application, you become a video-news-library owner as well. Offline reading without missing a page has never been so simple. *Bookmarks included.
NY Times
Besides regular sections, say, Arts or Health, my attention was caught by 2 uncommon ones. The first tab of the digitalized copy of the famous NY Times is called 'Opinion' where users have a chance not only to learn something new, but also share their opinion with other app owners. The 'Video' category is devoted to a huge number of exclusive short footages on different subjects. Extra sections (s.a. Movies, Books, Food) can be found in the slideout navigation menu on the left side of the screen.
BBC News
BBC needs no introductions. Their app BBC News is truly amazing. First of all, they provide a perfect feature named 'Live' where the online broadcast is carried out. Then, you may try on the role of a journalist and add topics to the 'My news' tab. And, finally, you may manage your app interface according to your needs: just elect suitable categories from the '+Add Topics' and you will start receiving thematic updates daily. In case you require reading something neutral or keep informed, select the 'Top Stories' tab.
Daily Mail
The app developers have made significant efforts to carry their project to this particular level. Daily Mail is very colorful and informative. Among unusual options I found 'Just pics' – a picture feed and 'Femail' – women feed. There is a 'Pick favorite channels' feature as well which allows you to switch your bookmarks from Travel to Politics and vice versa. The 'Auto-sync the latest stories' function enabled lets the app download articles while it is closed. Try to leave and rate some comments. Enjoy!