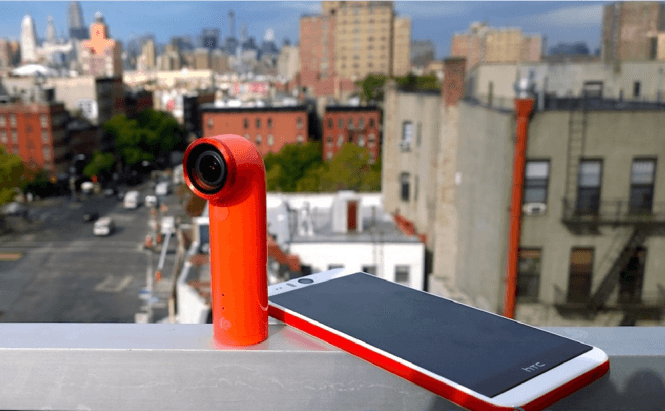 Meet Re - HTC's New Flip Camera for Smartphones
Along with its newest selfie-focused smartphone, HTC also unveiled a new flip camera called Re, which was presented as a GoPro action camera for "regular" people. This is one of the most important events in the history of HTC as it marks the expansion of the manufacturer's focus from mobiles to other devices.
Re looks just like a periscope with only two buttons. Shortly tapping the main button will instruct the device to take a photo, while long pressing it will trigger the start or the finish of video recording. The camera can also capture slow motion videos, but for that you will need to press the second button. Yes, you've read correctly, there is no power button. The device is fitted with capacitive touch sensors so it will automatically turn on as soon as you pick it up.
Re's technical specifications are pretty impressive: the camera features a 146 degrees wide-angle f2.8 lens with embedded camera stabilization functions. Moreover, the device comes with 1/2.3 -inch Sony CMOS sensor of 16 megapixels, which is more than you could find on most of the smartphones, but mediocre when compared to other POV cameras. Lastly, Re is waterproof, so you will be able to take underwater selfies anytime you want to.
The camera connects to your smartphone through Bluetooth or Wi-FI and can be controlled with the help of a special app. At the moment the application will only work on Android, but HTC says that it will soon become available for iOS. The battery is designed to last for 1000 stills or one and half hour of filming. Re will hit the US market at the end of October and the UK stores in November, and it will cost $199 and £160-£170 respectively.