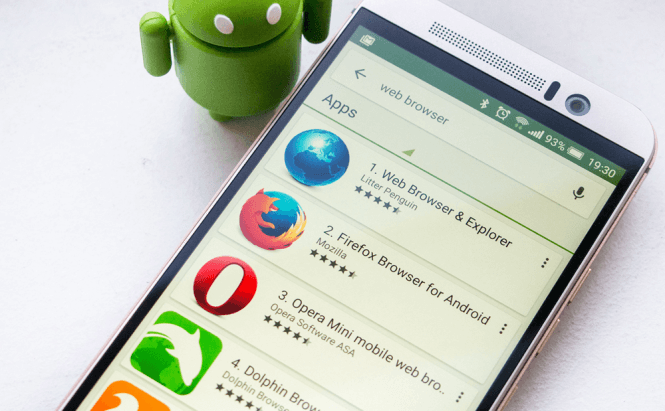 The Best Alternatives to Android's Standard Browser
The Android operating system comes prepacked with several tools to help you complete your regular tasks. However, once you start figuring things out, you will discover that standard apps are generally not as powerful as third-party ones. The default Android browser is no exception, and if you ever decide that you need more features or faster navigation speed, here you will find a list with the best alternative browsers currently available on the market.
Dolphin
Dolphin
Dolphin is one of the oldest third-party browsers for Android. The app comes with several highlight features which make it stand out. For starters, it provides gesture and voice controls, allowing you to quickly access various functions. Another big advantage is that the application provides its own ad-blocker so you don't have to install additional extensions. Lastly, the Dolphin browser comes with its own line of apps and even its own store, so you can easily add all any extra functionality that you require.
PsiPhon
PsiPhon
While we are talking about the browsers that clearly stand out, I feel like I must mention PsiPhon. This app is designed to help users reach maximum levels of privacy and bypass region restriction or censorship. Furthermore, if you have a rooted phone you can extend its VPN functionality to the entire device, thus being able to anonymously access information you may normally not have access to. So, if you're browsing the Internet from a public hot spot and require increased security, or if you have restricted access to certain parts of the Internet, PsiPhon is a browser you should really try out.
Chrome
Chrome
Google's Chrome browser for Android is a noteworthy alternative, especially since the company is constantly working to improve it. This app allows you to surf the Internet in the incognito mode (so you won't have to worry about deleting your history) and sync your data between all your devices. As far as privacy is concerned, the tool provides you with a Do Not Track option which stops some websites from monitoring your on-line activity. However, it's turned off by default, so you have to set it up manually. The downside of using Chrome for Android is that it doesn't offer support of Flash videos which are still very popular throughout the Internet.
Opera Mini
Opera Mini
Like Dolphin, Opera was one of the first browsers to become available on Android. However, my favorite is Opera Mini - a stripped down version of the regular app. This tool offers lightning-fast navigation speed and less data consumption than most of similar applications, which is great if you have a transfer cap. As an additional advantage, the browser offers a Night Mode, which (despite what you might originally think) makes reading in dim lighted environments more comfortable for your eyes. If you have a low-end smartphone or a slow Internet connection, Opera Mini is a great solution for you.
Firefox
Firefox
Just like its desktop counterpart, Firefox for Android is a full-fledged browser, but it's a bit demanding when it comes to resources. The app allows you to sync your data between all your devices (passwords, settings, bookmarks, browsing history, etc.) and offers a private browsing mode. Moreover, the application is capable of playing Flash videos (if you have Flash installed), lets you use a wide variety of add-ons to extend its functionality and includes a Reader Mode for whenever you want to read a document without any distractions. Lastly, Firefox also provides a Guest Mode, so that any of your buddies can browse the Internet the way they like to without compromising your data or settings.
CM Browser
CM Browser
If security is what you're looking for, CM (Clean Master) Browser may be the best solution for you. This lightweight browser takes up just 1.7 MB of your storage space, is pretty fast when it comes to downloading files from the Internet and warns you about suspicious web pages or APK files. But improved security isn't the only advantage you will get; the app also does a good job at protecting your privacy by helping you browse anonymously and providing the Do Not Track feature. Lastly, CM Browser offers a very interesting tab system which lets you quickly move between the pages you have opened at the moment.
UC Browser
UC Browser
Another feature-rich application, UC Browser, is a good way to go for power-users. As far as functionality goes, this app has pretty much anything you might need: Flash support, reader mode, incognito browsing mode and even a data-compression system which helps you consume less data and speeds up your navigation. However, what I really like is that the developers thought about everybody and created a lite version of the app, named UC Browser Mini, for those with low-end smartphones. Additionally, in case you're a media fan with a fast Internet connection, you can also opt for the UC Browser HD version of the application.