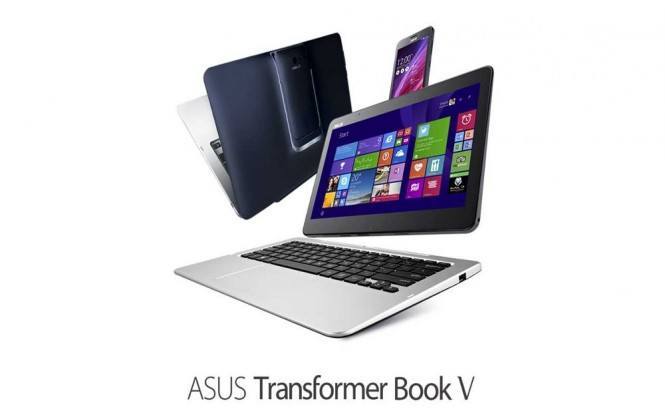 ASUS Shows Off The Revolutionary Transformer Book V
The new device that has been demonstrated by the Taiwanese manufacturer can become the absolute all-in-one hybrid system. But first let's have a look at other devices that have been revealed by ASUS at the world's largest technology trade event.
On the front lines comes the new Android running ASUS MeMo Pad, available in a wide range of juicy colors, and with the latest Zen UI. The 8-inch variant of the device is said to be the lightest LTE tablet in the world as it weights less than 300 grams. Both MeMo 8 and MeMo 7 tablets get a 64-bit Intel CPU, but the 8-inch version of the device is slightly different from its 7-inch brother. The smaller one gets a 5MP rear camera and a 720p display, while Memo Pad 8 has a 1080p full HD display and a Gorilla Glass 3 atop of it.
The next ASUS device that has been presented at Computex is the new Fonepad. The device has a 1280x800 8-inch display surrounded by two front speakers. Inside the Fonepad lies Intel's impressive quad-core processor: Atom™ Z3560 1.8GHz.
Asus MeMo 8
ASUS Fonepad 8
But let's get back to the main course. What is Transformer Book V? It is a hyper overstuffed platform combining a laptop, a tablet and a smartphone. Everything that we've seen in hybrid concepts and never in real life. Moreover, as a laptop and a tablet it may run Windows as well as Android. The laptop/tablet boasts a 12.5 inch screen and a storage space of 1TB in laptop mode and 128GB when transformed into a tablet. The thing runs Windows 8.1 and Android 4.4 KitKat. To make you even happier, it also has a 5-inch smartphone stuffed with an Intel quad-core CPU (by the way, the smartphone also runs Android 4.4 KitKat). To make it absolutely clear, here is what we've got:
A Windows Laptop
An Android Laptop
A Windows Tablet
An Android Tablet
An Android Smartphone
Pure madness. Nevertheless, it would be really cool to pick at this monster when it gets to the shops. Meanwhile, let's hope that ASUS will manage to get this thing to the market safely or even with more bizarre options.