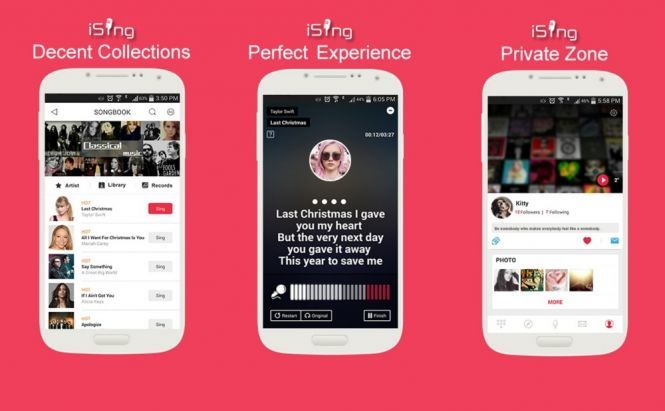 Meet iSing Karaoke – a social network for karaoke lovers
There are thousands of karaoke apps out there on the PlayStore, but this one has drawn my attention as it looks really professional and becomes increasingly popular worldwide. And the reasons are quite obvious, as unlike most of it's rivals, iSing is both a karaoke app and a social network where users share their own performance video and audio recordings within a vast community. With the latest update that brought about 1,000 songs in Hindi to the library, the app now supports 7 languages (English, Chinese, Taiwanese, Japanese, Thai, Portuguese and Hindi), has an extensive library of over 100,000 songs, and if you cannot find your favorite band or song, you can send a request, and the developers will add it to the library within a couple of days for free.
Personally I am not a big fan of karaoke as it's often associated with the 'pop' genre, but mostly due to the fact that I'm not a good singer, to say the least. Nevertheless, I toyed around with the app and even recorded Metallica's 'Fade to Black' but instead of hurting your aesthetic feelings and posting it here, I'd rather tell you about the functionality of iSing. The interface is quite neat, and intuitive. I liked the music quality, as it's not a MIDI file, but a full-featured MP3, devoid of the vocal line. If you wish to record your masterpiece, you can choose between audio and video. There is also a sort of newsfeed that displays the most recently added videos of your friends and subscribers. If you don't like the social network part of the app, you can use it just for yourself without creating an account or signing in, which is really a rare thing today and I really enjoyed that.
iSing - Karaoke
Certainly, there are many more improvements that can be made to iSing - like filtering artists and songs by genre, start various sorts of contests between users, add an opportunity to sing a duet and the like, but what I've seen so far works quite well and I guess the developers have a clear picture of what the app is going to look like in the future. So if you you are looking for a high-quality karaoke app for your Android device, be sure to give this one a try. If you are a fan of karaoke, you may also like the article written by Nova, where she tells how to create your own karaoke and be sure to check Vlad's rating of the best karaoke players for Windows.