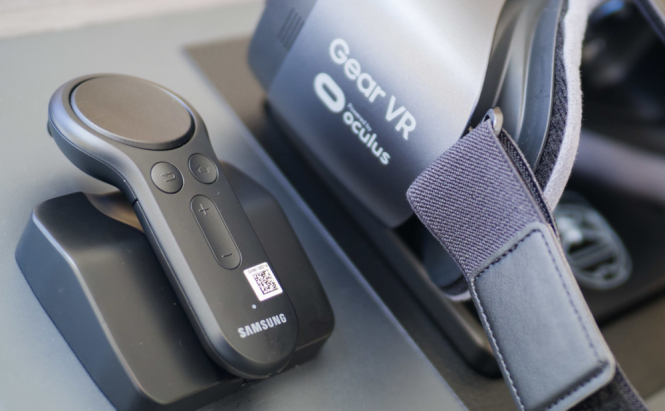 The Gear VR controller is out now and costs $40
I've got some good news for those who like to spend their time in virtual reality. Samsung and Oculus have just released a controller for the Gear VR headset, making menu navigation and game playing a lot less awkward. The device has been officially launched on the market this weekend, on April 21st, and can be purchased either as a stand-alone gadget costing $40 or bundled with the Gear VR headset for $130. If you're interested, I've seen the product on Best Buy.
As some of you may know, up until now, the only way to navigate menus on Gear VR was by using the directional touchpad from the side of the headset, but that was far from an ideal solution. This new controller makes things a lot easier: the device embeds a clickable touchpad, Home and Back buttons, volume controls and a trigger that will come in very handy when playing shooters. Additionally, there's also a removable strap, which can ensure that you won't accidentally drop the device. What's really cool is that inside the gadget you will find a gyroscope, an accelerometer and a magnetometer, which allow the controller to track your hand's motion.
To honor the event, Oculus has also released 20 new games that can be played using the controller, including titles like A Night Sky, AFFECTED: The Manor or the awesome zombie-killer Drop Dead. Also, now that you've got a better way to play them, it might be a great time to revisit the best games for Samsung's Gear VR.