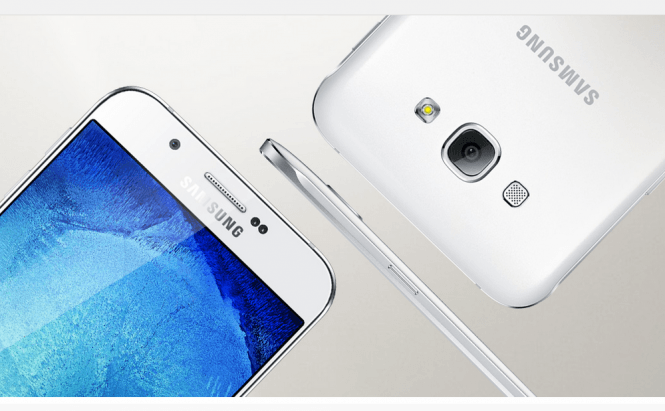 Samsung Launched Its Slimmest Smartphone The Galaxy A8
Yesterday, Samsung finally unveiled its much rumored and anticipated Galaxy A8 on the company's China website. As it was expected, the new gadget has become the slimmest phone the company ever produced - the device is only 5.9 mm thin. As slim as it is, the Galaxy A8 is equipped with a huge 3,050 mAh capacity battery, powered by an octa-core Snapdragon 615 chipset clocked at 1.5GHz, and there's 2 GB of RAM to go with it. The handset also comes with 16/32 GB of internal memory and a microSD slot for up to 128GB more space.
Galaxy A8 Camera
With 158mm length, 77mm width and sporting a 5.7" 1080p Super AMOLED display, the Galaxy A8 is the largest phone among its siblings. It weights only 151 grams and is constructed of premium materials. The Samsung Galaxy A8 will come with a 16-megapixel Isocell autofocus camera on its rear with f/1.9 aperture and a 5-megapixel front camera with a 120-degree wide-angle field of view allowing users to take large group selfies.
Sensitive Fingerprinting
Finally, the Galaxy A8 runs Android 5.1.1 Lollipop out of the box and features a fingerprint scanner integrated into the Home button.The smartphone will be available in white, black, and gold color options.
Samsung has officially launched the Galaxy A8 only in China and is yet to confirm whether the phone will be available in other countries. The price is yet to be announced.