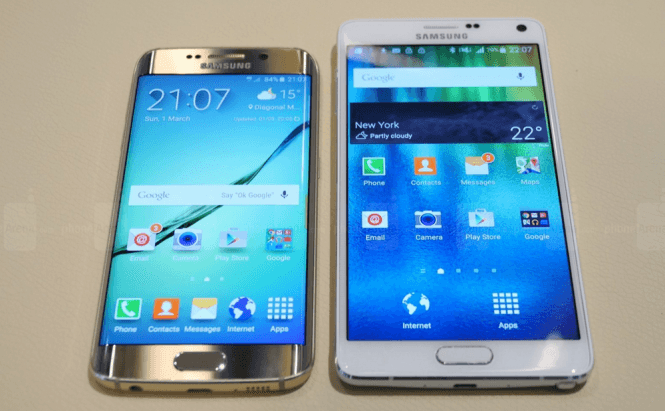 Samsung launches Galaxy Note 5 and Galaxy S6 Edge+
Samsung has just announced two brand new additions to its handsets family: Galaxy Note 5 and Galaxy S6 Edge+. Both devices will become available in stores on August 21 and are already available for preordering from AT&T, Best Buy, Sprint, T-Mobile and Verizon. The prices vary from seller to seller but without a 2-year contract they will start at $700 USD for Galaxy Note 5 and $800 USD for Galaxy S6 Edge+. In case you're interested in the technical specs, here's a short rundown of the devices:
Galaxy Note 5
The Galaxy Note 5 brings a lot of improvements, but also one big disappointment. Under the hood the phone features a 2.1GHz octa-core Exynos 7420, 4GB of RAM, a battery of 3,000 mAh and either 32 GB or 64 GB of storage space. The phablet sports a 5.7 inch Quad HD Super AMOLED screen (with a 2560x1440 resolution), a front camera of 5 MP and a 16 MP rear camera. Additional features include a choice of colors (White Pearl or Black Sapphire) and an S-Pen with a clicking mechanism.
Unfortunately, Samsung once again chose not to add support for additional storage cards (microSD), and that is a big problem as far as I'm concerned.
Galaxy S6 Edge+
Galaxy S6 Edge+ is basically just a bigger version of the Galaxy S6 Edge model. Hardware-wise, the phablet embeds a 2.1GHz Exynos 7420 processor, 4GB of RAM, 32 or 64 GM of storage and a 3,000 mAh battery (basically the same specs as the Galaxy Note 5. The display, resolution and camera specifications are also identical to the ones from Note 5, the only difference is that Edge+ is slightly longer, wider and slimmer than the previously mentioned device.
Both handsets offer wireless charging capabilities (work with WPC as well as PMA standards), NFC and MST chips for Samsung Pay, and support for Ultra High Quality Audio (UHQA) and HD live broadcasting through YouTube.
Source: AndroidCentral