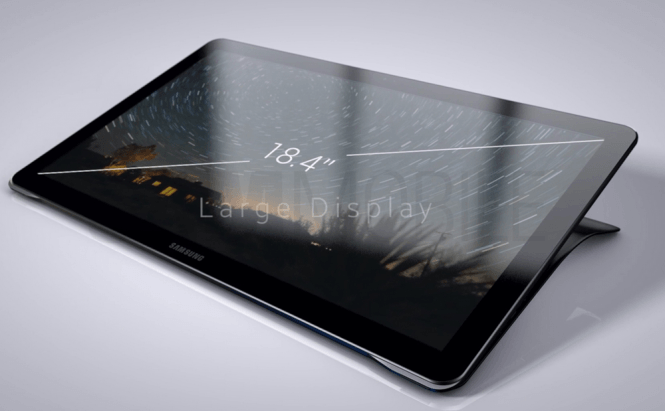 Meet Galaxy View, Samsung's huge 18.4-inch tablet
After recently launching its slimmest smartphone yet: the Galaxy S8 and its own mobile payment system: Samsung Pay, Samsung just unveiled Samsung View, a gigantic tablet with an 18.4-inch screen. While other competitors such as Apple or Microsoft promote their newest tablets (iPad Pro and Surface Pro 4) as the perfect tools to work on while you're on the move, Samsung states that its latest device is one of the best mobile entertainment hubs that you can find. After taking a look at the device's technical specifications, I tend to agree with them.
While the sheer size of tablet may be impressive (as an 18.4-inch display is bigger than most laptops), that's not the only great thing that Samsung View has to offer. The tablet features a 1.6 GHz octa-core processor, 2 GB of RAM, a 5,700 mAh battery that guarantees up to 8 hours of continuous video play, two high quality (4W) speakers and a 2.1 MP front facing camera. This device is powered by Android 5.1 Lollipop, but its interface is directly connected to a quick launch screen for popular streaming services such as Netflix, Hulu, YouYube, etc. which is another big plus. If you're interested in the internal storage capabilities, the tablet will come in two versions, one offering 32 GB and the other 64 GB. It's not that great, but you will be able to extend both versions with a microSD card, so there shouldn't be any problems. Lastly, Galaxy View also embeds a microSIM tray which allows you to connect the device to a data plan.
Samsung Galaxy View
As far as drawbacks go, the only one that I could find is that Samsung View is a bit on the heavy-side weighing 2.65 Kg, which makes it slightly hard to maneuver. Unfortunately for those interested, Samsung hasn't yet officially announced the price or the launch date of the device, but it will probably hit the markets before winter holidays.